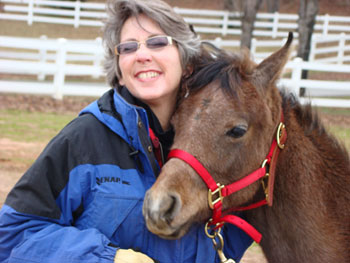 For several years during my childhood my father raised Arabian horses. It was a dream come true for a little girl and a love that would never fade. It wasn't until many years later that I learned that as a child I had been brushing and braiding the manes and tails of horses brought to the US from Poland by General Patton. Now with children grown and family gone I have finally made my way back to my first love, the Arabian horse. I have come full circle, I have come home.
For my husband, CC, this is a whole new experience. While he is not comfortable with handling horses ( he's making progress), he has been a quick study on the nuances that make the Arabian stand out. He has developed and expert eye and truly appreciates seeing a beautiful horse and can pick out the champion in most classes at horse shows.
I was fortunate to visit Imperial Egyptian Stud in 2007 where our journey began. With the purchase of an exceptional Al Kamar daughter, Imperial Karree and her then four day old colt, Imperial Phinaali by Imperial Baarez plus a breeding back to Baarez which produced a beautiful filly in 2008 we formed the foundation of Avila Arabians.